[Psycho Nightmare]
A downloadable game for Windows
[Psycho Nightmare] : It is a terror and adventure video game which tries the aesthetics retro from playstation 1 with diverses types of video game genres like survival horror. point and click , puzzle , Match Match and more.

The world of [Psycho Nightmare] is full of riddles to be solved, items that will help you progress in history or discover more sophisticated weapons for your confrontations with enemies, as well as a different finals depending on the elections you have made during the match.

beside this during the city adventure you could discover a cassette series abandoned witch will help you to know more the narrative part of the history hidden inside the desolated city.

During your adventure through the city, you will take on the role of Lena, a girl who after having sealed a promise with the help of fire, has managed to open an alternate dimension to a cursed city after an evil power has been unleashed.

After arriving in the city, Lena will need to find a way to survive and return to Andrey, who was swallowed by the portal as well. Supernatural terrors, devastated survivors, and haunting secrets to solve await you on your journey.
Risks: Like every indie project, there are always a multitude of risks to consider, even more so being that a video game requires a lot of talent in several fields. I understand the restrictions and times I must consider to be able to develop this video game, so I gave myself the task of developing a playable demo that can serve for proof as to how truly committed I am.
I also know how important it is to be in constant communication with my backers. I strive to be as transparent and honest as possible, especially due to the support you are giving me, and the trust you are putting in me. To be able to create something that will not only be for me, but for my backers, who have helped to give life to this world of mine.
This demo was made over a period of 5 months. It has been reviewed from head to toe, so there should be no problems during your experience. However, some bugs may have slipped past me. If you happen to find one, please let me know in the comment box so that I can tackle them as soon as possible.

Español
[Psycho Nightmare] : es un videojuego de terror y aventura que intenta retomar la estética retro del playstation 1 con diversos tipos de géneros de videojuegos que van desde el survival horror , Point and Click , Puzzle , Match Match y más.
El mundo de [Psycho Nightmare] está lleno de acertijos por resolver , items que te ayudarán a progresar en la historia ó hasta descubrir armas más sofisticadas para tus enfrentamientos con los enemigos , así como también una variedad de finales dependiendo de las elecciones que hayas hecho durante la partida.
Además de esto durante tu aventura por la ciudad podrás descubrir una serie de cassettes abandonados que te ayudarán a conocer más la parte narrativa de la historia que se esconde dentro de la desolada ciudad de [Psycho Nightmare].
Durante tu aventura por la ciudad , tomarás el lugar de Lena una chica que tras haber sellado una promesa con la ayuda del fuego ha logrado abrir una dimensión alterna donde la ciudad actualmente se encuentra maldita al haber sido liberado un poder maligno.
Tras haber llegado a la ciudad , Lena tendrá que buscar la forma de sobrevivir y reencontrarse con Andrey quien también fue devorado por el portal , enemigos sobrenaturales escondidos en la ciudad , sobrevivientes y secretos por resolver son lo que te espera en este viaje.

Riesgos : como todo proyecto siempre existen mucho riesgos a considerar y más siendo un videojuego que requiere una gran cantidad de talento como habilidades interdisciplinarias , conozco los límites y tiempos a considerar para poder desarrollar este videojuego por lo que me di la tarea de elaborar un demo jugable que pueda servir como prueba de lo realmente comprometido que me encuentro.
Así como también sé lo realmente importante que es estar en constante comunicación con ustedes , siempre dando la mayor transparencia y honestidad posible , ya que valoro mucho el apoyo que me están dando para poder crear algo que no solamente será para mi , si no para ustedes quienes han logrado dar vida a este proyecto.
Este demo fue hecho en un lapso de 5 meses , ha sido revisado de pies a cabeza para que no haya ningún problema durante el juego , aún así puede llegar a ocurrir algunos bugs de los que no me haya percatado , si encuentran uno haganmelo saber en la caja de comentarios para poder arreglarlos e ir haciendo updates de los ejecutables con las correcciones.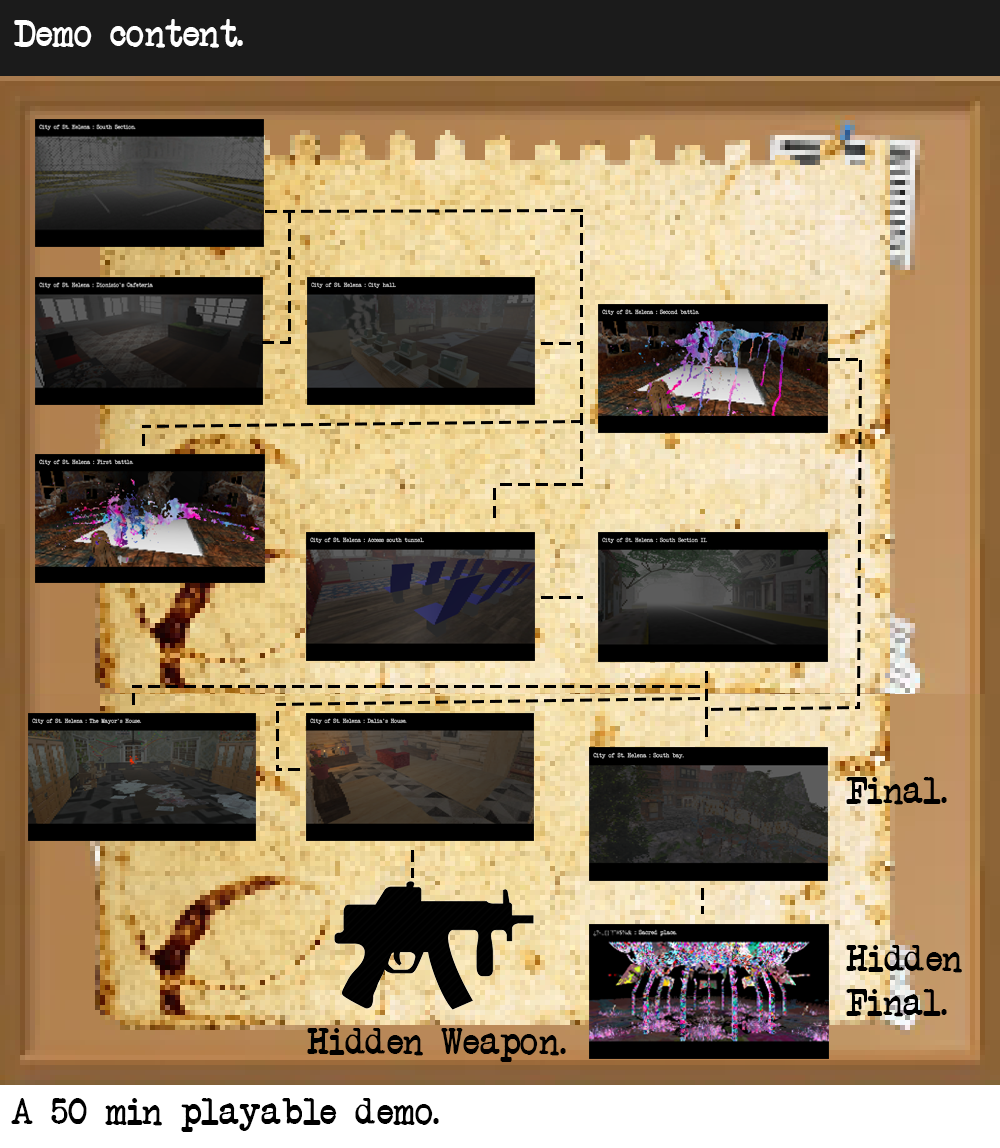 System Requirements
SO: Windows 8
Procesador: 1,5 GHz or more
Memoria: 8 MB de RAM
Gráficos: 1GB <DX 11>
https://www.kickstarter.com/projects/auslissajous/psycho-nightmare

>> Enjoy the demo - and please help make the full version on Kickstarter <<
Save And Exit Added in inventory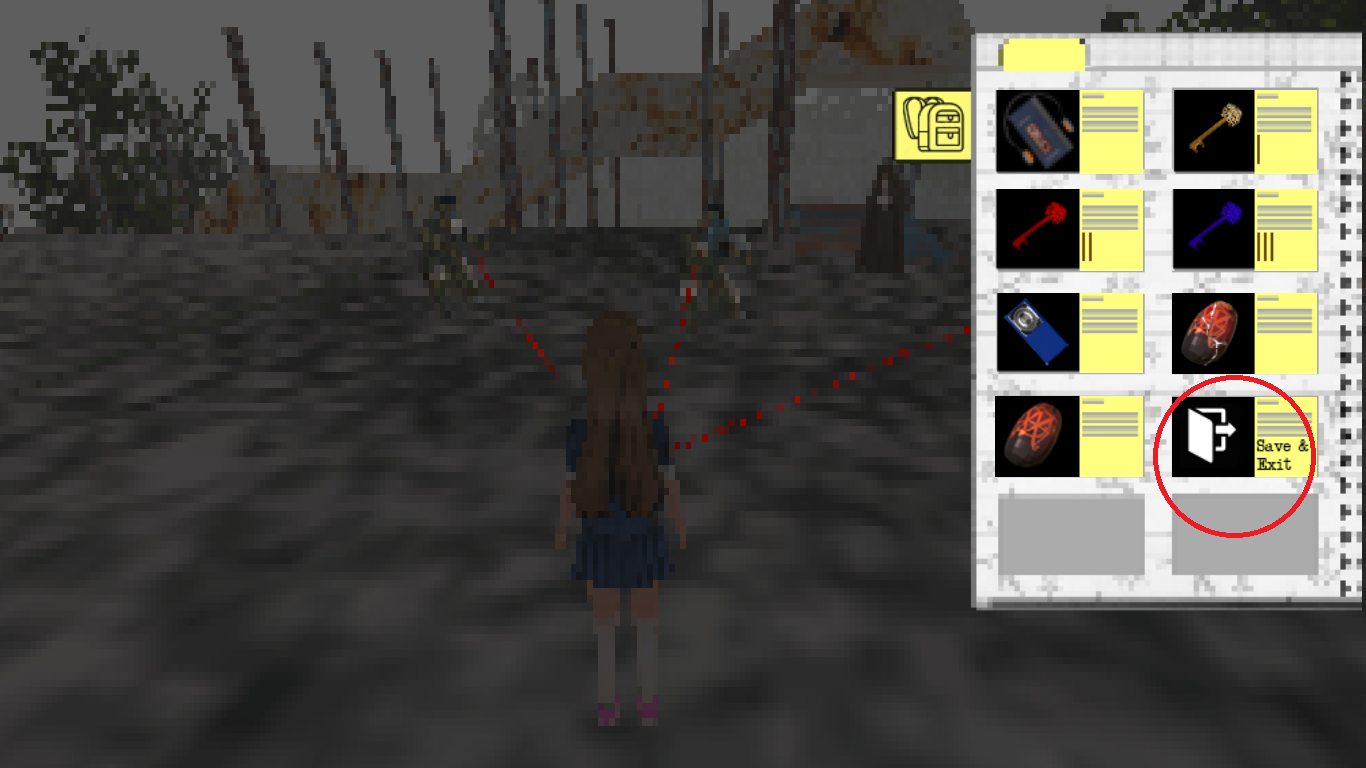 version 1.0.9
Fixed Bugs:
- Sliding monsters : Fixed
- Walkman and first key disappear from the inventary : Fixed
- Camera clipping plane: This will take a while

Download
Download
PsychoNightmareEnglishVersionAlpha109.rar
189 MB
Comments
Log in with itch.io to leave a comment.
Recién me entero de esto y que mal que no haya alcanzado el kickstarter :(
no te preocupes , va a tener un remake :D
I did a full playthrough of the demo and I gave most of my thoughts on the game at the end of the video. Though most of my thoughts are echoed in the comments. Mouse sensitivity being too high (when paired with first person shooting boss fight makes the fight harder then it needs to be). Beyond that, game's fairly rock solid.
Here's my channel for other games I have played. http://www.youtube.com/c/Levont
I forgot to comment this here! My bad!
The sensitivity is a bit too high while moving around the town, I didn't have to move my mouse much for it to slide to any direction.
A map feature for the town would be nice. It was a bit troubling navigating through the town trying to find the next objective.
I could see through the buildings from time to time.
I glitched through the fence at the next map after going through the tunnel.
The 'cassette' disappears after you leave the building with the crucified monster where you get the mask.
In all honesty, I don't mind the switch in gameplay from first-person to third-person and having those point-and-click moments. I find it new and refreshing, although the match-making boss fight was very dragging. I do understand that this is pretty much a baby phase of the game but I thought I should just let you know! All in all, I still had fun playing the demo, I had some "what should I do next?", but I managed through.
Thanks for letting me make a video of your game and more power to you! :)
All done, some strange things happened in the game but overall it was pretty good demo play.
YouTuber: Fellowplayer

As promised, here I am to write a full review of your game! A lot of things I've already told you in our conversation, but here were go:

First of all, like I've told you before, add an options menu to your game where people can change their mouse sensitivity, brightness, resolutions..
Secondly, also mentioned it, but I think you'll have to choose what direction you want to go with the game. 1st person works well for the boss fight in the darkness, but 3rd person looks a lot better, runs easier and makes it a lot scarier/interesting. The point and click I think does not feel at home with the rest of the game. You can easily explore the houses in 3rd person too, which adds to the mystery and maybe even makes it easier to explore.
Style: I really like the style of the game, the retro look makes it feel like a PS1 game like intended, so well done! However, again in 3rd person, it feels weird. The character is too big compared to the houses, and some of the structures look kind of weird and don't make a lot of sense (trees growing out buildings, doors being hidden partly behind the street ...). This is something I think would also work better in 3rd person, but that is just my idea.
The town: while exploring the town, I think the player needs a map. Either find one, or have one in town. It is really hard to navigate where your next objective is. It does add up to the mystery, not knowing what happened, but after 5 minutes of walking around, it gets a bit annoying.. For the keys, maybe add an address or name to them, so it is easier to know where you have to go.
Speaking of items, I've noticed that some go missing from the inventory at random. One moment you have a key/light and the next second it is gone. This prevented me from progressing twice.
The enemies/combat: Combat itself works well, once you know where to aim. Both is 1st and 3rd person. Although, when you're aiming with your gun in 3rd person (night boss fight) I found out I had to unequip my gun before being able to pick up extra ammo, which was a little weird. The enemies are cool and have a lot of variety to them. Maybe some extra backstory would be nice, maybe it is already in (I lost my cassette tape at one point so no idea what some tapes said). The second boss though (the one with the colours) felt really out of place however. You get dropped in the dimension out of nowhere and the way you 'fight' him, matching colours, is really odd after you've been shooting the other bosses. I think that needs to change, or have some sort of explanation to it. Right now it was just odd.
Puzzles: I liked the puzzles in the game. Some of them made you think, which is a good thing. Also, I loved how some of them (such as the keyboard one) were randomized every time you play a name game. This makes every playthrough different, which is awesome!
Extra tips/hints: Besides everything mentioned, I think you should remove the 'esc' button to remove the game. I closed the game twice by accident, trying to close my inventory/exit a room, which made me have to do a whole part over again. But, if you add an 'options', it would make sense if this were at the 'esc' button. Also, maybe add an option to save your progress. Right now I never knew when the game would save or when I reached a checkpoint.
Also, as promised, of course, there is a gameplay video of me playing the game. I address a lot of things throughout the game as well, maybe it is easier to understand when you see what I talk about. Feel free to use the video to promote your game, I would be honoured!
Final thoughts: I enjoyed the game. It still needs a lot of work, but for your first ever game being made, as well as your main language not being English, I think you did a great job! I would love to play more of the game later on, but for now I think it needs more work and a lot of things have to be fixed.
I know that the game is in a very early stage at this point, so a lot of things I mentioned maybe you already thought of changing/adding something. I also hope you don't take my criticism the wrong way, I'm just sharing my experience and opinion and hope that it is helpful!
If there is anymore questions, or would like some feedback, feel free to message me on twitter again! :D
Hello, I played the demo and it looks pretty interesting.
Here's my gameplay of it:
Thank you so much IGXL !¡ ya pronto habra una nueva actualizacion para corregir los enemigos que deslizan por el suelo , un gran saludo amigo mio y muchas gracias por jugar.

Sliding enemies was Fixed. :D
Gracias a ti por estar desarrollando este juego!
muchas gracias a ti por jugarlo y darme observaciones , son muy importantes para que pueda ir puliendo el juego de poco en poco.